The significant growth results in 2022 have made Solerzia, in all respects, an emerging protagonist in the Italian market.
After 6 years of activity in the Renewable Energy and Smart City sector, in just 3 years since its launch on the market, the company is achieving the transition to an innovative SME and, parallel to structural development, has also decided to renew its "look" through a process of image evolution, to combine the lateral thinking that distinguishes it and respond to the needs of a constantly evolving market.
The goal of the rebranding is to strengthen and promote the company's position as a reference point in the industry, enhancing visibility and perception of the values it promotes: the renewed brand, modern and dynamic, evokes the idea of innovation, circularity, and sustainability.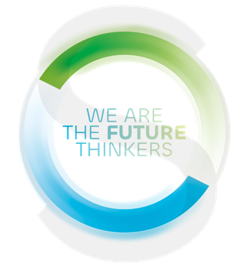 The new claim enhances Solerzia's vision of sustainable innovation: "THINKING" is crucial, "ASKING MANY QUESTIONS" a necessity, "LOOKING TO THE FUTURE" essential, "BEING THE CHANGE YOU WANT TO SEE IN THE WORLD" a way of life.

WE ARE THE FUTURE THINKERS
The restyling involves the website and all promotional materials, with the intention of making communication more effective and efficient for the company's customers and partners.
Thanks to the collaboration with partner Fattoria Creativa, an excellent example has been created of how color choices can be effectively used to create a strong brand identity and communicate company values. In particular, the combination of green and blue highlights the company's attention to the environment and technology.
Green is synonymous with green initiatives and sustainable practices. The choice emphasizes the company's commitment to the environment and reducing environmental impact. Green is a relaxing and calming color, the color of trust that evokes feelings of balance and harmony.
Blue, on the other hand, is a color often associated with technology and innovation. Commonly used by companies to emphasize their focus on research and technological development, the color of innovation and modernity.
Solerzia, with its know-how in the renewable energy and technology sector for Smart cCties, aims to continue investing in innovation and research to offer increasingly sustainable and cutting-edge solutions. This restyling represents an important step forward, testifying to the company's willingness to look and think to the future with even greater determination and ambition.
#Solerzia #Futurethinkers
#smartcity #greenenergy
#sostenibilità #Sustainability #Environment #economiacircolare #circulareconomy #green #greeneconomy #ecofriendly #svilupposostenibile #sustainabledevelopment #energiarinnovabile #photovoltaic